Products You May Like
John Stamos' ex-girlfriend has already denied his cheating story about Tony Danza — but now, she's shedding even more light on what she says actually went down.
Teri Copley is spilling the whole story now … at least her side of it, anyway. She posted a lengthy video on YouTube detailing the whole thing — including what she says led to them breaking up before Stamos came over to her house to find Danza staying over with TC.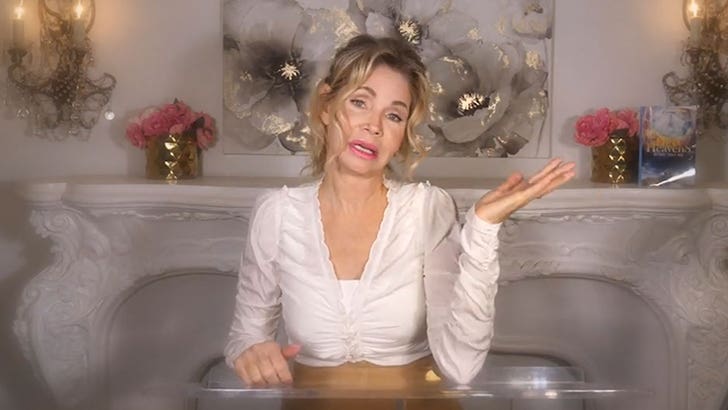 YouTube / Teri Copley
According to Teri, things were going fine with JS — that is, until she says his mom called her one day to warn her that he had no plans of marrying her … and to be careful.
Shortly after that, Teri says she dumped John — insisting she made it clear to him that they shouldn't see each other anymore … after which, she claims the whole Danza confrontation happened. However, it didn't happen the way Stamos described in his book … so says Teri.
Long story short … Teri says that after she broke up with John, she read a magazine interview that Danza had given — in which he said he would've married Teri (apparently, they'd had a connection before all this) … and that led to her inviting him over.
She says the night John came over, all he did was knock on her front door … which she says she answered fully-clothed, and asked him what the heck he was doing there.
John, according to her, simply shook his head and walked away — which Teri says she didn't understand, 'cause they were dunzo. She goes on to say that, years later, she became friendly with John again and told him about what his mom had once told her.
She says John wasn't aware his mom had told her that once upon a time — and insisted he would've married her … 'cause he was madly in love with her, which he echoed in his book.
Now, however, after John aired out their dirty laundry — and in an inauthentic way, as Teri sees it — she's a little pissed at him … saying she feels "sideswiped" by this whole saga.
Teri adds, "That's not the John I knew," while going on to say she actually forgives him. 😬